Featured Native Plant: Carolina Allspice
By Bridget Abernathy
---
Native plants play a vital role in our urban forests, and provide many environmental, social, and economic benefits to those who live in and around our city centers. Landscaping for aesthetics, as well as for ecological function, is essential for the protection and restoration of natural areas. Planting native species in the yard or garden is an excellent way for individuals to expand and enhance our urban forests.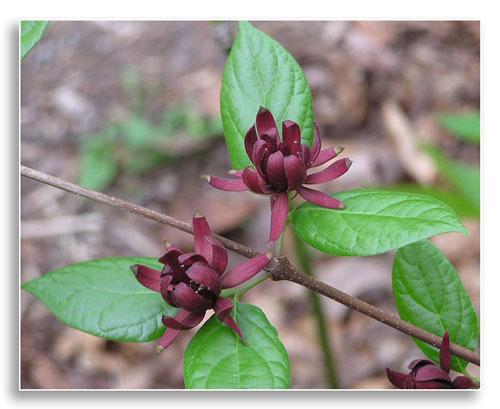 Carolina allspice (Calycanthus floridus), also known as sweetshrub, is an attractive understory shrub native to mixed deciduous forests, woodland openings and edges, moist hillsides, and stream banks in the eastern United States. This medium-sized, dense, multi-stemmed deciduous woody shrub typically has a rounded form, and tends to spread along the outer edges by suckering. Its dense branch structure provides cover and nesting for a variety of birds and other small mammals. Carolina allspice can grow 6-9 feet in height, with a slightly greater crown spread. In the wild, its form tends to be tall, open, and sparse, and in the garden, it is usually shorter, with dense sprawling branches. The simple, large elliptical leaves have an opposite leaf arrangement, and are dark green, lustrous, leathery, and aromatic when bruised. The leaves turn golden yellow and then rusty brown before falling in autumn. Solitary, fragrant flowers open in April to May, with occasional scattered flowers appearing in the summer months. The overlapping, strap-like flowers are deep red to maroon in color, and bloom at the ends of short branchlets. The 1-2 inch wide magnolia-like flowers give way to urn-shaped seed capsules, which form in the summer and are persistent throughout the winter. Carolina allspice flowers have a scent that is sweet, fruity, and long-lasting. Its fragrant flowers have led to many other common names for the plant: strawberry-bush, sweet bubby bush, sweet Betsy, and spicebush.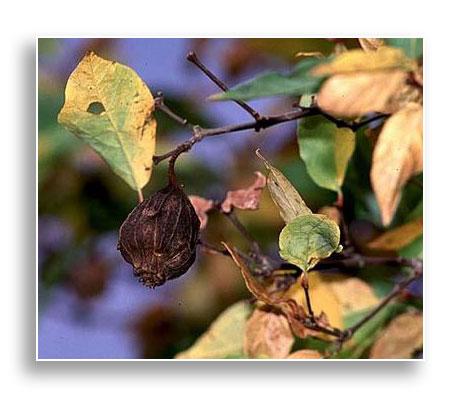 Carolina allspice tolerates of a wide range of soils, but grows best in moist, well-drained rich loams in full sun to partial shade. Although fairly common in parts of its range from southeastern Pennsylvania to the Florida panhandle and Louisiana, Carolina allspice has a limited native range in Kentucky, and is found along the Kentucky River and Cumberland River. The variety Calycanthus floridus L. var. glaucus is listed as threatened in Kentucky.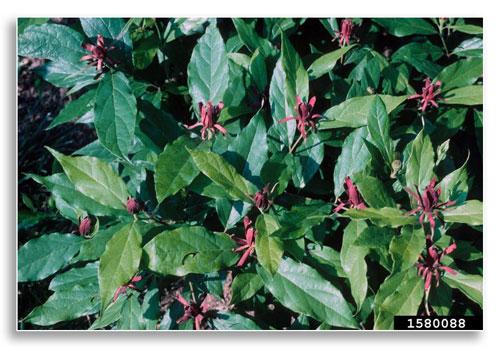 This shrub can be a highly desirable garden plant for all seasons. Gardeners can take advantage of its attractive form, glossy foliage, and striking flowers by planting it near entrances, outdoor living spaces, and in borders or native gardens. Carolina allspice is considered an easy to grow, low maintenance shrub. The shrub grows at a moderate rate of 12 to 18 inches per year under moist and partially shady growing conditions, and considerably slower with drier soil and full sun. Carolina allspice requires very little pruning, and if needed, it should take place immediately after flowering to maintain its shape. Suckers should be removed as they emerge to reduce the width of the shrub. Root suckers can also be easily separated from the shrub and replanted. This plant is resistant to browse, insects, and diseases— Phytophthora or Pythium root rots can occur in very poorly drained soil, but generally the shrub tends to be free of problems. Carolina allspice can be found at local nurseries and garden centers that sell native trees and shrubs. Several cultivars are available as well, which feature flowers ranging from white to yellowish-green.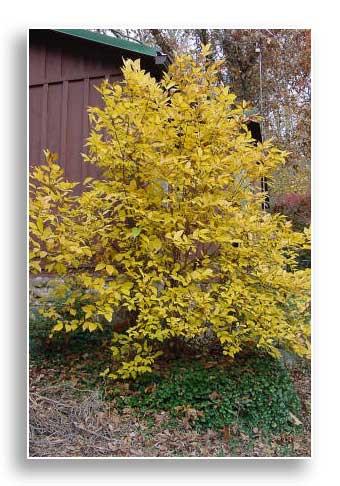 Photography
Sweetshrub. (Lindley Ashline)
Calycanthus floridus. (North Carolina Cooperative Extension)
Eastern sweetshrub. (John Ruter, University of Georgia)
Eastern sweetshrub. (James H. Miller & Ted Bodner)
About the Author
Bridget Abernathy is the Assistant Director of Urban Forestry for the Kentucky Division of Forestry. Email at bridget.abernathy@ky.gov