White Oak at Woodland Glen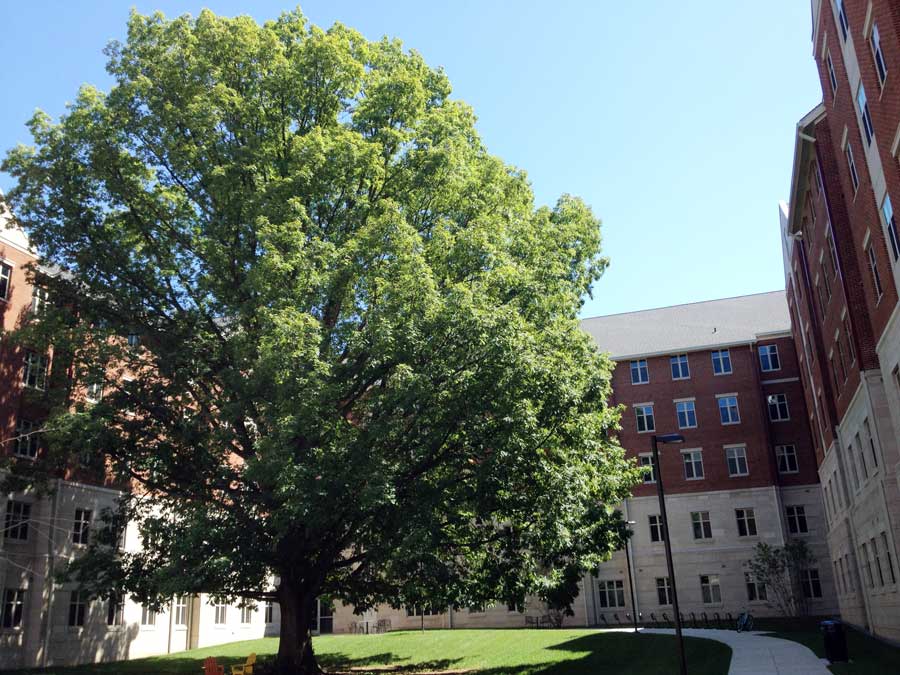 This large white oak (Quercus alba) in the courtyard of the Woodland Glen student dormitory represents a commitment to tree protection during a construction project at University of Kentucky. The roots of this tree reside in soil with a storied history. 
The University experienced a substantial increase in student population starting in the mid-1940s as a result of World War II veterans seeking to further their education. Many veterans and their families called these pre-fabricated war surplus buildings home during their academic careers at UK.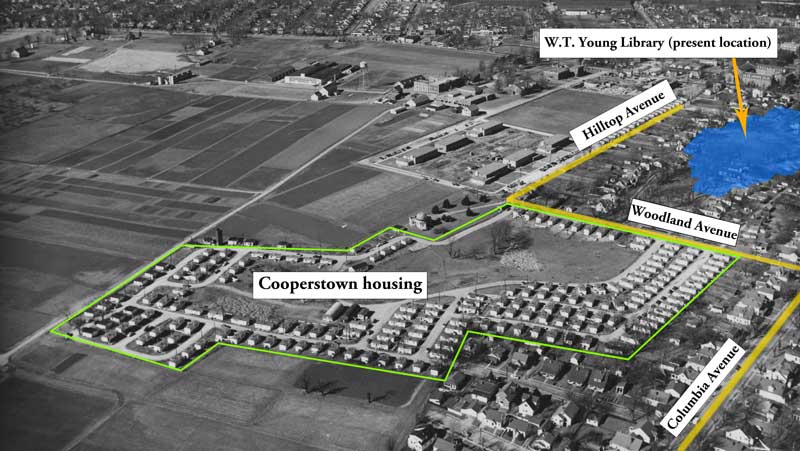 As the College continued to grow, so did the need for student housing. The Cooperstown Apartment Complex (completed in 1956) replaced the surplus buildings, creating a more permanent living situation for UK graduate students and their families.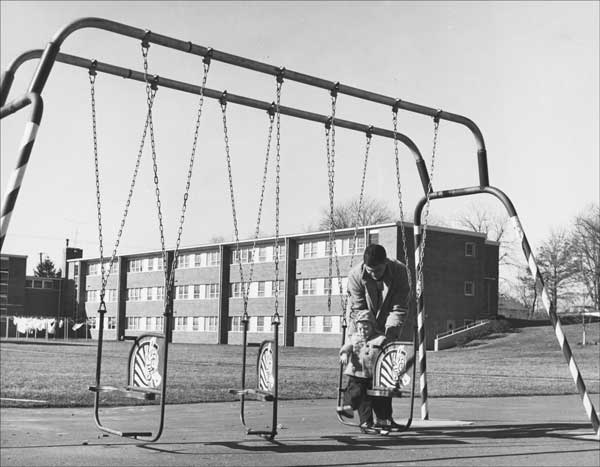 Eventually, the student population outgrew the Cooperstown Apartments.  Construction on the Woodland Glen student dormitories began late 2012.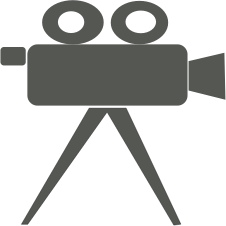 Watch time lapse video of the demolition of Cooperstown and construction of Woodland Glen here. Pay special attention to the trees.
(Clicking will open a new tab in web browser - find the "Time-Lapse" button near the top of the screen)
How old is this large white oak? We can't say for certain, but comparing historic and present-day aerial photography may give us an idea.

Upon closer examination of the 1954 aerial, there is no tree visible near the present location of the white oak at Woodland Glen. The white oak at Woodland Glen is another example (see also Sycamore on Rose Street) of the protection of a large and majestic tree that is relatively young...this one less than 60 years of age!
Photography
White oak (Quercus alba) in the courtyard of Woodlang Glen II, May 2015 (N. Williamson)
Truck hauling the fabricated houses for Cooperstown Apartments, 1945 (UK Archives)
Aerial of Cooperstown WW2 veteran housing (1954) with present locations of streets and W.T. Young Library (UK Archives)
Aerial of Cooperstown WW2 veteran housing (1954), Google Earth© aerial of Woodland Glen student housing (2014) 
About the Author
Nic Williamson is the Arboriculture Superintendent at the University of Kentucky. Nic is an ISA Certified ARborist and is ISA Tree Risk Assessment Qualified. He can be reached at nwilliamson@uky.edu.