The Main (or Administration) Building was one of the first three buildings constructed at the University of Kentucky, formerly the Agricultural and Mechanical College of Kentucky. Campus trees have historically been significant to the landscape and life of the College community, as shown in this excerpt from a 1903 yearbook.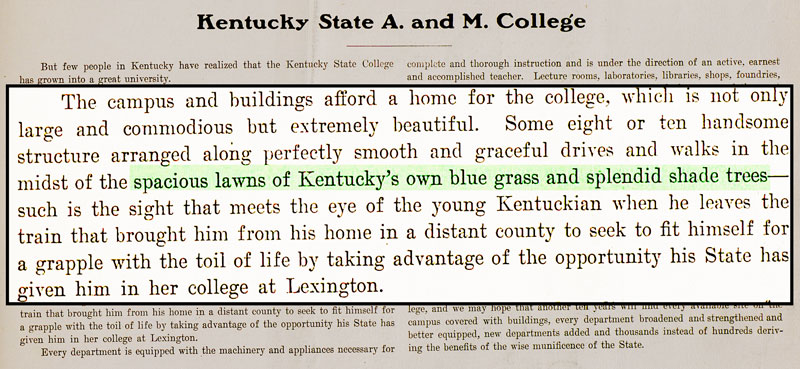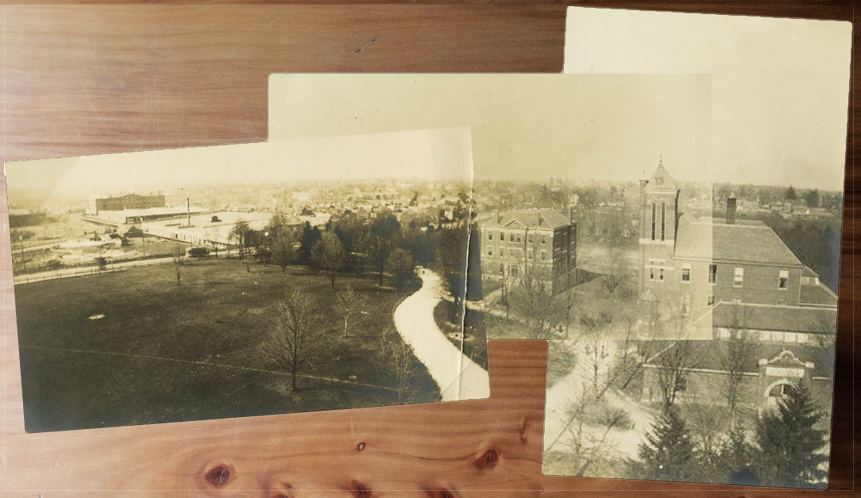 Missing from the skyline are tall buildings, and missing from the streets are automobiles. An electric trolley can be seen traveling down the road, near to the intersection of one leg of Administration Drive  with Limestone St. A thick stand of trees grace this entrance. Today you will find many large mature trees here, creating a "canopy walk" for the pedestrian bridge that crosses over Limestone to the Peterson Service Building and Parking Structure #5. These structures occupy the footprint of what was once the American Tobacco warehouse, the sprawling white roofed structure seen in the left-hand photograph above. 

These photographs (above and below) show the pedestrian walkway over Limestone that leads to Parking Structure #5 and the Peterson Service Building (brick building on the left). Visible on the Main Lawn are several small trees that were planted in spring 2014 as part of a "Planting for the Next 150 Years" campaign, celebrating the University's 150th anniversary.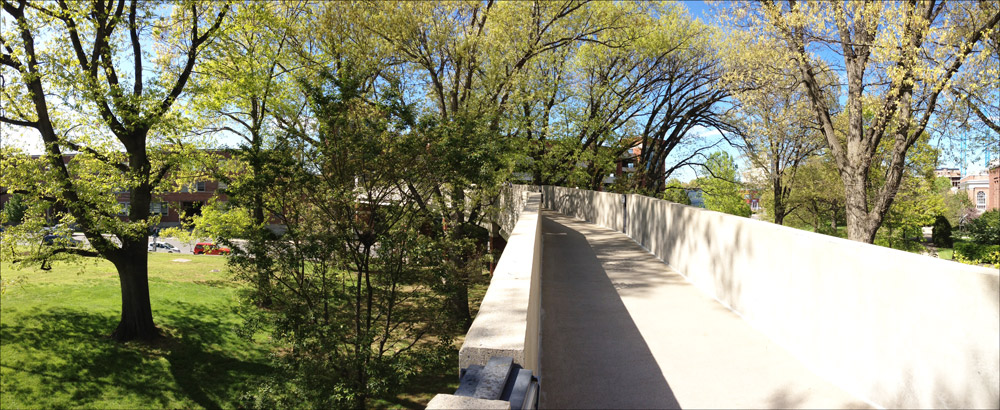 Planting new trees is important for many reasons. As our campus tree canopy increases, so do all of the associated benefits (stormwater abatement, energy conservation, wildlife habitat, etc.). Our current mature trees will eventually decline (hopefully not for some time), and these young trees will become established. The planting of "replacement" trees is very important to avoid a lag time between a young and mature urban forest.
Photography
Main Building (center) and lawn, looking southwest across Limestone Street (1897) (UK Archives)
Excerpt from 1903 Kentucky State A. and M. College yearbook (UK Archives)
View from roof of the Main (Administration) Building looking north toward downtown Lexington (1912) (UK Archives)
Similar vantage point as #3 but closer to Limestone; view from Main Building lawn looking north to Peterson Service Building and pedestrian walkway over Limestone St. (April 2015) (N. Williamson)
View from the pedestrian "canopy walkway" over Limestone St. (April 2015) (N. Williamson)
About the Author
Nic Williamson is the Arboriculture Superintendent at the University of Kentucky. Nic is an ISA Certified ARborist and is ISA Tree Risk Assessment Qualified. He can be reached at nwilliamson@uky.edu.